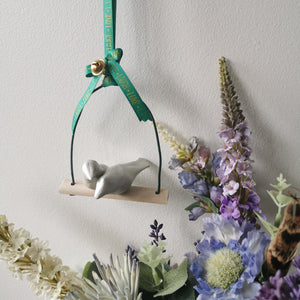 Clay Craft Kits
Love Bird Clay Kit
Bring the fun of a clay workshop into the comfort of your own home. On receipt of your box you will be given a link to view a step by step, online tutorial. Watch at your own pace and never get left behind.
Find everything you need to create these simple and delicate lovebirds on a swing and a set of hanging decorations. Choose to paint your birds in bright colours or keep them simple with cool metallics.
Each box includes enough quality air dry clay to create at least 4-5 birds. Plus a wooden knife, skewer, a square of hessian, sponge, wooden swing, wire, ribbon, paperclips, selection of acrylic paints, varnish and 2 paintbrushes.
Please let me know if there is another colour combination that you'd like. I'll happily include them for you. 
I've had so much fun designing this kit for you, from hand making the wooden swings, to recording your tutorial. It's been a labour of love. I hope you enjoy creating your birds as much as I've enjoyed putting your kit together.
---